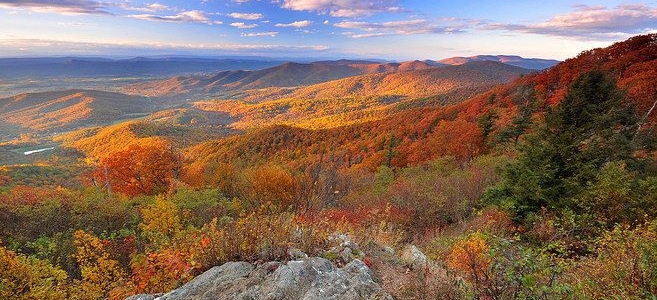 October is the perfect time to slow down, relax and recharge in the Shenandoah Valley. The hectic holiday season is just down the road, with preparations that can quickly become overwhelming and stressful. On the other hand, there is not much that October asks from us, other than to enjoy the splendor of the 31 days it offers. As October greets the Shenandoah Valley, most of us will barely notice the changing landscape and views, but with each passing day, the beauty intensifies, until we cannot help but be amazed by the dazzling beauty surrounding us. October is a gift to the Shenandoah Valley, meant to be savored.
During October, whether leaf peeping along one of Page County's scenic roadways, or hiking any of the trails in Shenandoah National Park, visitors will enjoy the Shenandoah Valley at its spectacular best. As shorter days and cooler temperatures usher in brilliant foliage, for many, the ultimate fall experience starts on Skyline Drive, named one of "America's Best Fall Foliage Drives", by Travel & Leisure Magazine. "Shenandoah National Park, in the Blue Ridge Mountains, is the quintessential fall foliage destination for southeast travelers and Skyline Drive has been called one of the top 10 scenic mountain drives in the U.S." Skyline Drive, the National Scenic Byway, running north to south though the park, at the crest of the Blue Ridge Mountains, is a particularly good place to view fall colors. The steep slopes afford visitors an opportunity to view the kaleidoscope of color that begins at the peak and slowly works its way down to the Shenandoah Valley to the west. In early October, fall colors develop above 3500', with peak colors occurring at mid and lower elevations by the third week of October. However, there are so many variables that exact dates are impossible to predict. The best way for visitors to monitor the fall foliage and plan their visit is to check Shenandoah National Park Fall Color Weekly Updates. While visiting SNP, visitors can stop by Harry F. Byrd Visitor Center and Dickey Ridge Visitor Center to view featured informative displays on the history of the park, or take part in ranger programs and guided hikes offered throughout the day. Lodging options for visitors looking to spend a few days hiking and exploring in the park include Big Meadows Lodge, Lewis Mountain Cabins, and Skyland, along with five beautiful campgrounds.
Fall foliage is bursting with color at the same time wineries in the Shenandoah Valley are celebrating the grape harvest. October 2019 marks the 31st Anniversary of Virginia Wine Month. Our roots run deep in Virginia, a commonwealth where tradition and revolution go hand in hand. Virginia may be considered one of the up and coming wine regions in the United States, but its vinicultural history predates the country itself. In 1619, each male colonist in the Jamestown settlement was required to plant and tend to a minimum of 10 grapevines. 400 years later, Virginia is home to over 300 wineries and in terms of wine grape production, Virginia is the 5th largest wine producing state in the nation. While scenic routes and wineries abound throughout the commonwealth, one of the prime locations that combines noteworthy views and vines can be found near the Blue Ridge Mountains, running down the western spine of Virginia.
The Blue Ridge Whiskey Wine Loop, featured in Wine Enthusiast Magazine, provides a convenient map and travel plan that snakes along scenic routes of the northern Blue Ridge Mountains and the northern half of Shenandoah National Park, with stops at local attractions and vineyards. Page County is home to Wisteria Farm & Vineyards, one of the stops on the Whiskey Wine Loop. The vineyard follows sustainable agricultural practices and all wine is crafted from 100% estate grown grapes. There are a variety of places around the farm to sip wine and enjoy a picnic. Whether the choice is to head down to the creek, hang out by a fire pit, sit on the deck equipped with outdoor heaters, or lounge by the fireplace in the cozy tasting room, guests are sure to enjoy the colorful October landscape, along with a taste of Virginia wine. Guests looking to be a bit more active, are welcome to lend a hand in harvesting the grapes. Harvesting takes place on most Saturdays through October. It is suggested to call ahead, since the grapes and Mother Nature will determine the actual harvest. River Hill Distillery, another stop on the Whiskey Wine Loop is a wonderful choice for groups consisting of both wine lovers and whiskey lovers. Their country wines, crafted from fruit grown onsite or in their orchard, include blackberry, strawberry, mixed berry, peach and apple. The Valley Cork , also on the Whiskey Wine Loop, is a wonderfully eclectic wine bar and bottle shop located in the heart of historic downtown Luray. Guests will enjoy sipping Virginia wines, as well as wines from around the world. Delicious light fare is always available, with live music scheduled throughout the month. Castle Vineyards, a wine tasting room and vineyard, offering both indoor and outdoor seating, continues to grow, with plans to expand and plant additional vines in spring of 2020. Guests can enjoy a glass of wine and some light fare, as they take in the brilliant October views from the front porch or patio. Visitors who are crunched for time but still looking to try some local wine, can purchase a bottle of Virginia wine by visiting Rainbow Hill Shops, Brookside Gift Shop, or Fairview Grocery.
Folks looking to round out an autumn weekend in the Shenandoah Valley can enjoy some special October events. The 50th Annual Page County Heritage Festival, scheduled for Saturday, October 12th and Sunday, October 13th, celebrates the heritage of Page County. The festival features over one hundred crafters with demonstrations for basket making, wheel-thrown pottery designing, wool spinning, blacksmith works and more. Guests will enjoy a variety of live entertainment, homemade country cooking and kids' activities. Also, on Saturday, October 12th, Massanutten Resort's, Massanutten Fall Festival offers a family friendly event featuring live music, arts and craft vendors, beer, wine, kids' activities, scenic chairlift rides and more. The Mimslyn Inn, in the Town of Luray, offers a special Harvest Dinner on Saturday, October 19th. The event will feature a locally sourced menu, crafted cocktails, local wines and live blue grass music. The inn also offers a $5.00 corkage fee for guest looking to enjoy a local bottle of wine with dinner or while relaxing on the front porch. Folks looking to end the month with some Halloween fun can stop by the Luray-Page County Chamber of Commerce & Visitor Center to purchase tickets to Kings Dominion's Halloween Haunt. Ticket holders can venture through haunted mazes, take in heart stopping shows and ride thrilling rides.
It's your call! Choose how you would like to spend the spectacular month of October in the breathtakingly beautiful Shenandoah Valley!